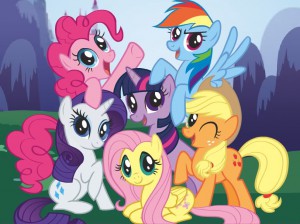 In 2012, I started to watch the cartoon My Little Pony: Friendship is Magic. It is pretty much the best TV show ever and I've seen a lot of TV shows. Prior to 2011, the My Little Pony franchise was aimed primarily at young girls – the TV show was made to promote the toys, of course. This changed, however, with the fourth "generation" of the TV show, called My Little Pony: Friendship is Magic.
The creator, Lauren Faust, succeeded in creating a series that is entertaining to watch not only to little girls and not only to their parents but also to a vast and unlikely demographic. The viewership of the cartoon is now evenly split between the original demographic and young people of ages 15 to 30.
People try to give various reasons for why this occurred.
For me, I like the songs, the animation, the voices, but mostly the sincerity and behaviour of all the characters. The morals of the episodes spoke to me and even got me to improve my behaviour.
Plus, an amazing community formed around the series. Fans create massive amounts of original art, be it pictures, fanfiction, comics, animation, songs, music or video games. The amount truly is enormous – the most well-known fansite, Equestria Daily, publishes five best music pieces every day!
Adult fans of My Little Pony are called bronies (a portmanteau of bro and pony).
I recommend you visit the following links:
Do NOT watch the show in Czech. If you thought the Czech translation of your favourite TV show was bad, you know nothing about what a bad translation looks like.