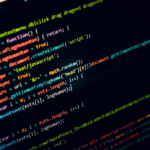 Jak vypadá pracovní den programátora? To je otázka, kterou jsme já i další měli na střední škole, a měli jsme problémy si ji zodpovědět. Moje představa byla, že sedím v místnosti, sám a před počítám, a píšu řádek za řádkem kódu do Visual Studia, z něhož nakonec vyjde hotový program.
Ale to mi nestačilo. Jistě, programátor v práci píše kód, ale jak to přesně vypadá? Co vlastně dělá? Pracuje sám nebo s dalšími? Jak ví, co má programovat? 
Tyto otázky se pokusím zodpovědět v tomto článku. Moje informace pochází z mých vlastních zkušeností při programování v pozici zaměstnance, a také ze zkušeností mých kamarádů, kolegů a známých.