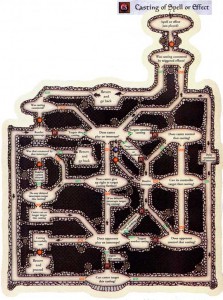 On this page, I have links to all version of all rules documents pertaining to the card game Magic: The Gathering that I could locate on the internet. Many of these files were hard to find.
This page has been harvested by the Wayback Machine, so it and the documents it links to should be preserved forever.
This page will not be updated to contain documents after 2015. If you want those, updated and comprehensive archives are at Venser's Journal.

It was quite easy to find old versions of Comprehensive Rules and some such lists (even though incomplete) could already be found on the internet.
However, finding old versions of the Magic Tournament Rules and Infraction Procedure Guide proved far more difficult. These documents changed name multiple times. For example, the IPG was previously called DCI Penalty Guideliens and the Magic Tournament Rules were created by joining together the DCI Universal Tournament Rules (or DCI Standard Floor Rules) and the DCI Magic Floor Rules. I scraped together most of these documents by googling for PDF files in Wizards archives and by using a crawler bot to try to get documents based on URL's.
Wizards of the Coast holds copyright to most documents linked to from this page.
I suggest that the reader look at the first edition rulebook and, even better, the first Magic Tournament Rules. I found those very amusing.
Also, for simplicity, I did not distinguish between the various names of the Tournament Rules and Infractinon Procedure Guide. Even documents named DCI Penalty Guidelines are referred to as Infraction Procedure Guide in this list.
Well, here go the documents.
You may also browse the files directly.
Comprehensive Rules & pre-Sixth Edition Rulebooks
Non-Magic Games
Judging at Regular REL
Changelogs
Infraction Procedure Guide
These links don't show all the IPGs. For a complete list, browse the files directly here and in this subfolder.
Magic Tournament Rules
DCI Universal Tournament Rules
Miscellaneous
Handbooks for Tournament Officials